12.07.2011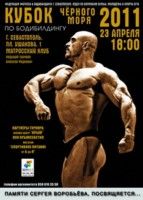 The competition of the Black Sea Cup in bodybuilding took place in Sevastopol on the 23 of April. It was dedicated to the memory of Sergei Vorobyov, who for many years was the head of the Bodybuilding Federation of Sevastopol. The Cup gathered the strongest athletes from the Crimea and other regions of Ukraine.
The InterAtletika Company - the national manufacturer of sports and exercise equipment, was the official sponsor of the event.
Competitions were held in four categories: juniors, men up to 85 kg, men over 85 kg and master class (absolute category, participation with personal invitations only). One of the tournament winners was the instructor of the Fresh fitness centre Sergei Chernyak. Sergei received the first prize in the Men over 85 category and became the second in the absolute category.
---