06.03.2007
Vice-president of the InterAtletika Group of Companies Elena Ivasik is a striking example of a modern business woman, devoted to the development of her business, she is confidently sitting in the driving seat of the big and successful company. Having joined the group of companies in 2000 as the director of the company for the import of sporting goods, Elena brought her company to the leading position in the market of import and sales of sports goods. Having proved her passion for business ideas and ability to achieve results, she became a shareholder of the company, lighten up the male team and gave extra energy for the development of the business. Today, this extraordinary and charming woman has something to be proud of.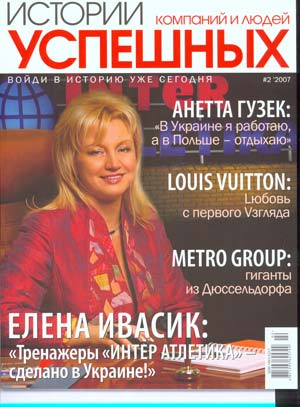 "My partners are career soldiers, for business it a huge advantage"
Elena, before joining the InterAtletika Group of Companies you held a number of top management positions in large banks. Was it frightening to drastically change the area of competence and, in fact, start from scratch?
I consider myself a strong and strong-willed person, and difficulties do not frighten me. On the contrary, I like to overcome obstacles. There is no way to success without any drawbacks. Besides, I always dreamed about the opportunity to work and achieve results in my own business. And when I accepted the offer of the InterAtletika founders, I just couldn't miss such opportunity. The area of my activity and its significance always has been important to me, I wanted to be proud of my work. I always sincerely happy when we open a new gym, a new playground, a new outdoor sports complex. The InterAtletika, in fact, makes a huge contribution in making our children grow up healthy and happy, as well as making their parents physically strong and enduring. We want the people to take up sports, live happily ever after, and do everything possible and impossible for this.
You are the only woman in the directorship of InterAtletika Group of Companies. Is it difficult to work with men, moreover professional military men?
Each my companions is a real man and a businessman who has taken a hard road to success. The fact that they are career officers, in my eyes, and in the eyes of most of our business partners, is a huge advantage. Officers are people of honor and duty, accustomed to hold a blow and have a respect for their promise, and for a successful entrepreneur these are essential qualities. They have been friends for almost 23 years - they studied together at the Donetsk Higher Military-Political School. Hence, mutual trust and mutual understanding in all matters and undertakings.
In general, the InterAtletika Group of Companies has a workforce of more than 600 employees - about 100 career officers. We are looking for people who are used to discipline and order, not indifferent to life, have an active position in life.
What have you learnt from your companions and what have you taught them?
I've learnt from them how to be courageous and harsh (but not cruelty). In fact, it is very difficult to learn to say "no" when necessary, and learn how not to feel sorry for yourself. As soon as a person begins to feel sorry for themselves, he falls by the wayside, thus the life and business slowly passes by. They, I think, have learnt from me how to properly and most profitable for themselves build relationships with banks and government agencies. In general, this process continues and so far - every day we learn something new and useful, we exchange experience and knowledge.
"Children are of high importance for us"
What is the InterAtletika Group of Companies today?
The InterAtletika Group of Companies includes two types of companies - production and trading, moreover 100% of our production companies are located in Ukraine (we are a national manufacturer and are proud of it), the trading companies are located both in Ukraine and in the Russian Federation. We are one of the founders of the Association of the Sports Industry of Ukraine and take an active part in its life. The areas the InterAtletika works in are also quite diverse - the production of professional and home sports exercise machines, playgrounds and outdoor trainers, wholesale and retail trade in sports goods, export and import of sports goods. All activities are structured according to programs.
Please tell us more about the programs.
The Children of Ukraine Program - the installation of children's play and sports grounds in parks, kindergartens, schools, orphanages etc.
The City Gym Program - the creation of "turnkey" sports and fitness gyms of various levels (fitness centers, gyms, educational facilities, recreation centers, sports facilities).
The Sport for All Program - the creation of "turnkey" outdoor sports and fitness facilities in urban recreation areas, schools, universities, sanatoriums.
The Sports Goods for the Population Program provides a full range of sporting goods for sports committees, sports federations, schools, universities, children's health institutions, sports bases, sports stores.
The InterAtletika is a clear structure with a strict form of management. I'm the only woman at the head of this business, my partners have their own understanding of management style and decision-making - hard, fast and in any case leading to success.
Firstly, you are mistaken about an exclusively male sport. Vast majority of the visitors of our gyms and fitness centers is the fairer sex. The gym and exercise machines are a great way to maintain health, an ideal body shape and a good mood. In fact, modern sports exercise machine is a very complex structure, a symbiosis of the work of scientists, the experience of athletes, the thought of designers, the ideas of designers, the decisions of technical specialists and much more.
How did you come up with the idea of ​Children of Ukraine program?
I am the mother, thus I am sure that the child will not have a happy childhood if he can not play with friends in the yard on a beautiful, comfortable and, most importantly, safe playground for children.In the framework of the Children of Ukraine program, we produce more than 110 products for the active and safe recreation of our children. These are children's play complexes, gymnastic towns, slides and sandpits, carousels, swings and riders, as well as arches, shelters and benches. The InterAtletika playgrounds stand out, because their rough drafts are created by a talented children's artist, and then they are embodied in metal, plastic and wood becoming the state-of-the-art equipment. When I cant tell the difference between the artist's drawing and the result of the playground - for me it's unbelievable! I try to attend as many official opening of children's playgrounds as possible - when you see the result of your work, the happiness of children, you are charged with energy for many days ahead. Is it possible to regret the tense working schedule and the lack of weekends when you see the smiles and hear the laughter of children having fun on a new playground in their yard, in the orphanage? Children are of the high importance for us. We must make their life happy!
---
Made in Ukraine
How hard it is to design a new exercise machine?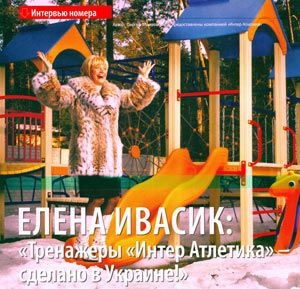 Believe me, the process of designing an exerciser is quite a difficult task, but when you see exercise machines of your trademark in more than 5 thousand gyms of Ukraine, Russia and other countries, you can imagine the number of people you gave health to, then you understand that it is worth working for. In general, the process of designing an exercise machine in the company is headed by my partner - president of the InterAtletika Group of Companies Oleg Rudenko. This man stood at the origins of the exercise machines as the sports equipment in the market of Ukraine and Russia. For several years now, on equal terms with the world's leading manufacturers of exercisers, we are presenting our products at the largest international exhibition of such sports equipment (Germany, Essen), and believe us, our exercise machines are not only as good as the Western analogs, but in many aspects even better. I am proud that they are made in Ukraine.
High, noble goals and profit - how do these two mutually exclusive concepts correlate in your activity?
Of course, our companies are primarily commercial. But I would never be able to sell alcohol or cigarettes, while receiving high profits and harming people. Our people should have strong health, high working capacity, live long and actively. And for this purpose, our market must be rich in affordable and excellent in quality sports goods and services. This is what we are doing. But do not think that we are only interested in profit, we pay much attention to the promotion and popularization of sports, patronage, sponsorship of many international and Ukrainian championships, competitions, and events. For example, for the second year in a row, together with the All-Ukrainian Center for Physical Health of the Population "Sport for All", we are running an All-Ukrainian action to put children's and sports grounds in order by the residents of nearby houses. The winner will receive a free prize from us - a modern sports ground.
---
"It's hard to resist the Ukrainian hospitality"

Tell us about the corporate culture of your company
We are paying a great attention to the employees of our companies, since man power is the main value of the InterAtletika. We are doing our best to make our employees proud of their work in the InterAtletika Group of Companies. We provide employees with food, uniform, commuting transport, corporate communications, and take on many other fuss. We have a Corporate Statue, each employee wears a company badge, a corporate newspaper is issued on a monthly basis, training of our employees in the best training companies is regularly conducted, competitions are held. And now I want to show off a bit: according to the results of the last year, the best workers received new jeeps as a reward. We are growing and looking for talents!
What areas are in your charge of?
We have all our responsibilities clearly set. In addition to general management, I am responsible for financial and foreign economic activities, certification and security of goods. We have large scopes of exports and imports. We carefully choose our foreign partners - Ukraine deserves to have the best goods in the world, so the work is sufficient from the dusk till down.
We are glad that young people prefer sports to other types of recreation. I am grateful to the Ministry of Ukraine for Family, Youth and Sports for their invaluable assistance, cooperation and understanding of the nation's health problems.
What are the plans of the InterAtletika Group of Companies for this year?
The plans are imposing. We have never set ourselves more ambitious goals before. First, at the exhibition in Germany we will present a new up-to-date line of exercise machines, but this is still a secret. Secondly, we have formed a special proposal for state authorities and local self-government on the installation of modern children's and sports grounds. In addition, I insisted on the reconstruction of our head office - I really want something new.
After reconstruction, we will have a modern fitness center, a conference hall and a hotel for our guests. Almost every day, in our base in the pine forest we host our friends. Our frequent guests were foreign partners of the InterAtletika Group of Companies, heads of public authorities, members of parliament, businessmen. It is difficult to resist ukrainian hospitality. These are people who are not indifferent to the health problems of the nation, the happiness of our children, we are always glad to see them as our friends.
What important events in the life of the company happened this year?
There have been many significant events this year, it is difficult to focus only on some. I remember, for example, the ceremonial giving out by the TUV NORD (Germany) international laboratory of the quality management system certificate according to the international standard ISO 9001:2000 to our products. I paid a lot of attention last year to the installation of sports grounds commissioned by the Ministry of Ukraine for Family, Youth and Sports. Within the framework of this program in 2006, over 200 modern sites were installed across Ukraine, which are always overcrowded.
Tell us a little about your sports base in Pine Forest near Kiev.
Two years ago, The InterAtletika Group of Companies decided to move its head office to a pine forest near Kiev - the resort town of Bucha. When I first came to the place where the construction of our office complex was supposed to be, I was astonished by an extraordinary silence, crystal clear air, century-old pine trees and ... the ruins of old buildings. Now I understand that I made the right choice by placing a workplace in the forest. I am grateful to the Mayor of Bucha, Anatoly Fedoruk and the mayor of Gostomel town Anatoly Kirichenko for the invaluable assistance provided in the creation of the sports base. As you can see, we have something to be proud of: all the old buildings are gone, large exhibition grounds for all our programs appeared - for children's play equipment, street exercise machines, a home equipment room and much more.
And finally a personal question. How do you manage to look so good with such a busy schedule?
Thanks for the compliment. A woman is a woman - that's the secret. Every day I meet with a lot of very wealthy people, my partners are always dressed perfectly, I should be an example for my employees - I should take care of myself. Especially since I am in a sports company.
I am proud that the success of the InterAtletika is a significant part of my soul and work, I am proud of my partners and employees, our rises and dynamic development, and the fact that the Inter Atletika Group of Companies is the undeniable leader in its field!